BDM onLine to meet the expectations

The BDM onLine transaction application is is a free tool for the investment account. It enables the viewing of account funds, financial instruments, as well as quotations from the Stock Exchange in real time. It also enables the management of the investment account through sending orders such as: buy, sell, cancel, modify, or external and internal transfers between accounts.

The BDM onLine application gives you access to the investment account using a few popular browsers on the market.

These are: Opera, Firefox, Internet Explorer, Chrome and Safari. Now, depending on your preferences, you can choose something for yourself. Log in to the application at
https://e.bdm.pl
. We recommend using Firefox, since the construction of BDM onLine is the most similar to it.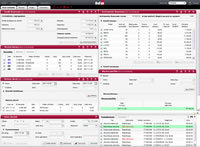 By making your transactions online, you will pay less for their execution.
Wykonując transakcje przez internet mniej zapłacisz za ich wykonanie.
Shares - 0,39 % - no less than PLN 5.95,
Bonds - 0,19 % - - no less than PLN 5.95,
Equity contracts - PLN 1,90,
Foreign exchange contracts - PLN 3,90 ,
Index futures - PLN 9,90,
Options - 1,99 % of the premium value - no less than PLN 1.95 no more than PLN 16
BDM onLine and its features
Desktops
- This application allows you to create your own desktop on which to place your choice forms. Owing to this, the investment account looks much cleaner and ergonomic, from the investor's point of view.

Creating a desktop
Intraterm
- Available in BDM onLine Intraterm application, it is used to preview quotations and PAP news. It is used for linking graph tables with a table of securities selected for viewing, for changing the font size and style in the quotations, for auto sorting the tables by a particular column, for auto scrolling the view of the created tables.
ISPAG
- Graphs with technical analysis. Just as Intraterm, ISPAG enables data viewing from daily,
historical
(first session on
16 April 1991
) to detailed, current graphs, drawing every transaction made. Considering splits on securities, it clearly shows each of more than 40 indicators.
Notowania tabelowe
- The simplest quotations are presented in the form of
baskets, investor-defined
lor multiple, created as default. When you double-click an offer, they put it into the orders form. This functionality speeds up the process of sending orders.
Nowa wersja
BDM onLine
.
New version of
more...
Poleć stronę: